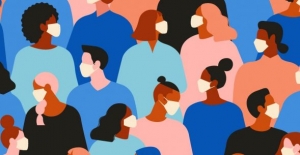 Loneliness During a Pandemic
Over the past few months, we've heard the term 'social distancing' and the importance of keeping a 6-foot distance from others, to reduce the risk of spreading the coronavirus. Many of us have practiced social distancing to keep ourselves, our families, and others safe. Some have had to adhere to social distancing and self-isolation due to contracting coronavirus or suspecting they have been in contact with someone who has had it. Many of us have not been prepared to cope with feelings of loneliness resulting from a loss of connection with others. This can cause us to feel isolated. Research on loneliness has found significant associations between social isolation and poorer mental health outcomes, such as depression and anxiety.
Although some restrictions regarding social distancing have been lifted, it can still be difficult to cope with feelings of isolation during this time. Here are some strategies to cope with isolation and loneliness.
Coping Strategies to reduce Isolation and Loneliness
Stay active and go outside

Exercise in ways that feel safe for you during the day. Brief periods of exercise can boost mental health.
Yoga has benefits for both the mind and body. Yoga can help you practice being mindful of the present.
Go outside to take a walk around the block, or find a local park where you can remain socially distanced.
Connect with Others

Phone calls, text messages, or emails are great ways to stay in touch with friends and family members. Consider using Zoom or Facetime to connect with loved ones visually. There are benefits to seeing others  "face-to-face."
Send mail to family members and friends. Sending an old-fashioned letter is a great way to feel connected, and receiving one in return feels even better.
Be creative in connecting with others! Agree to read the same book or watch the same movie with friends, and then set up a Zoom call to discuss it.
Explore online connections. Social media sources, such as Facebook, have online groups for a variety of topics you may be interested in. Consider online classes in your community or online exercise classes where you can interact with the instructor and other students.
Keep a schedule and structure

Have a plan each day including a few things you want to accomplish that day. Keep your list realistic and achievable.
Practice normal self-care habits such as getting up, showering, getting dressed, and so forth. Doing these things will help you feel that your day is more "normal."
Think about future plans

Develop a 'goals' list of things you want to accomplish going forward in your life.
Think about fun plans or events after the quarantine is over.
Engaging in these activities can increase hopefulness.
Distract yourself and practice Self-Soothing

Take a bath, light a candle, play with a pet, watch your favorite movie…do something soothing.
Listen to music or soothing sounds, such as ocean waves
Play puzzle games, or online games where you can interact with other players.
Write in a journal
Do a creative project such as painting, drawing, or building something
 Seeking Additional Help
When you find yourself struggling with isolation and loneliness, consider the benefits of talking to a licensed professional. Not only will this help you feel a sense of connection. Talking to a professional can help you feel accepted, validated, and supported. A therapist can help you to learn and practice coping skills and strategies to combat loneliness.
If you or someone you know could benefit from seeking professional help, call Specialized Therapy Associates today at (201)-488-6678. One of our intake specialists can help connect you with a licensed professional who can best meet your needs.