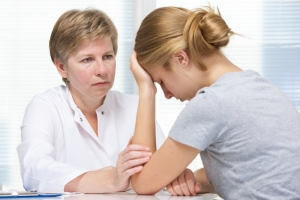 At Specialized Therapy Associates we like to live up to our name. We practice a holistic, systems approach towards helping patients – we are treating the addicted individual within a family system that is equally affected by addiction. For this reason we have an integrated team that will provide a full range of services to assist the family. We utilize a relapse prevention model incorporating the 12 Steps of Alcoholics Anonymous and a host of treatments that have proven effective for early through advanced stages of recovery.
The Specialized Therapy Associates addictions program is designed to assist individuals affected by any one of the following addictive disorders:
Alcohol
Drugs
Nicotine
Food (Bingeing and Restricting)
Gambling (including Internet)
Shopping
Co-dependency
STA is staffed with professionals who can help you with your specific needs. We take pride in offering a multiple of services under one roof to individuals and their family members who suffer from addiction and seek recovery and fulfillment.
After completing a thorough evaluation and assessment in order to determine what program (Inpatient, Intensive Outpatient, Individual therapy, Relapse prevention) would best meet your needs, we provide ongoing treatment planning for you and your family.
We emphasize making major changes in lifestyle including the people you associate with, the places you attend and the activities you engage in. We use a multi-faceted, holistic approach acknowledging that each individual has specific needs. Our counseling practice is client centered embracing a wide variety of approaches tailored for each person including psycho-dynamic and strengths based treatment for individual sessions. In addition we incorporate Cognitive Behavior Therapy, Behavior Modification, Mindful Based Meditation, Family of origin issues and rewriting your life script.
Once you meet the criteria for our program(s) one of our licensed clinicians will arrange for you to receive weekly individual counseling focusing on your recovery. In addition you will have an opportunity to join a compatible ongoing group. We have a number of exciting, creative groups specially designed to address particular issues for particular populations. The best part of being in a group is the chance to meet other individuals similar to you who are working on issues that arise early in recovery. You will receive the education and support you need and realize that you are not alone.
Specialized Groups
STA provides treatment for co-dependency for the care of the family members and loved ones of the addicted person. Codependency programs are designed to enhance to support personal growth and overcome the losses and deficits in relationships, work and productivity that the disease of addiction has caused.
Family Cares – Family Support
We have a special family group for family members that want to learn how to act around their loved one and deal with the various issues that surface for themselves and their loved ones in recovery. Some of the topics that are addressed are co-dependency, setting limits, understanding the disease concept and keeping the focus on you. Our family group combines the philosophy of the family systems model, underlining the significance and irreplaceable role of the family with the principles of Al-anon. Our goal is to help families grow close while also helping each member to feel the confidence and freedom to develop their own individuality. Everyone is effected by addiction; in this group family members learn to focus on their feelings and needs in order to live in tandem with their loved ones recovery.
Codependency
Do you love an addict or alcoholic? Do you find yourself preoccupied, worried and tense about your loved ones' drinking, drugging, texting or new found sobriety? If you have you lost yourself in your relationship or find yourself unable to feel good unless you are rescuing or saving someone, this group is for you. You will learn about co-dependence, self-care, setting boundaries and detachment with love. You will have a chance to change and grow just for you. We work with the 4 C's: You did not cause the addiction, you cannot control the addiction, you cannot cure the addiction, but you can cope with the addiction and live your life whether your loved one is drinking/using or not.
Groups for Teens
We have designed two specialized groups for adolescents that address the myriad of issues that teens face in recovering from addictions.
Teens in transition
Many adolescent feel as though they are forty years old. They have been out of the traditional system of attending school and opting for rehab. They have been placed in numerous treatment centers and have been evaluated by many doctors. This group is designed to help teens accept the limitations of their addiction and work on building back their self esteem, self worth and sense of optimism and adventure. We with discuss how their journey can be reframed as one of courage and fortitude and work in channeling these strengths to healthy interests and pursuits. In addition individuals will be assigned personal homework related to their emotional, spiritual and physical goals at this crucial time of their life.
Time Out, Tune In
In the 21st century everyone has pressure. Although teens may not have to support a family or pay a mortgage, they absorb enormous pressure. Pressure from peers to experiment with drugs and alcohol, fit in and look good. This group is designed for adolescents and young adults that suffer from peer pressure or personal pressure or both – pressure from parents to excel in school, go to college and/or get a job and pressure within themselves that create anxiety, depression and panic disorders. We will use guided meditation, art and writing as vehicles to help you find your inner voice and become confidant with who you are. Growing up is challenging; you will learn how to establish trust and build confidence in yourself.
Relapse Prevention
Identifying triggers and relapse warning signs is a major part of recovery. This group is designed to help patients that are prone to chronic relapse, to stay stopped. We will emphasis the importance of self care, maintaining abstinence, and staying honest, open and willing to live your life on life's terms. Some of the topics covered in our confidential groups include: Relapse warning signs, spirituality and addiction, nutrition and exercise, gratitude and motivation.
Women in Recovery
Many women struggle with being people pleasers – pleasing their parents, their mates, their children, their employer, until they have lost their own voice. Adjusting to sobriety requires emotional honesty and willingness to change. This group is for women who want to explore intimacy in sobriety. Topics will include: allowing others to know you, boundaries: setting them and honoring them and healthy risk taking. Three months of sobriety recommended.
Men in Recovery
Have you been an angry drunk or a happy drunk? Are you the man you always wanted to be? In this group we will explore messages you were given early in life, roles you took upon yourself and images you believed you needed to maintain in order to feel accepted. We will talk about what is right for you today and help you find what fits for your new found sobriety. We will create a safe environment to allow for you to reinvent yourself in order to be emotionally satisfied and spiritually fit. Three months sobriety recommended.
Medication
We understand the fragile mechanism of the mind and body in recovery and offer ongoing psychiatric care as needed by appointment only. Psychological and neurological testing is provided as necessary diagnostic tools. In addition, medication is prescribed as needed and evaluation is conducted on a routine basis. Patients need to be participating in at least one of our programs in order to receive medical treatment from one of our psychiatrists.
Laboratory Screening
Specialized Therapy Associates uses urine drug screening for alcohol and substance abuse to determine eligibility for the proper level of treatment. In our high level aftercare programs we randomly screen patients to increase motivation and hold our patients accountable. Specialized Therapy Associates works in conjunction with reliable, professional laboratories.
Functional medicine utilizes specialty labs to identify the underlying metabolic changes due to substance use and provides a personalized care plan to restore healthy brain and body functioning. By so doing the result is a sustained recovery over time because of stabilized brain and body chemistry.
There is no time like the present to take action.
For a free consultation with our intake coordinator who will match you to the best provider and service to fit your needs and goals, call 201-488-6678 or click this link to MAKE AN APPOINTMENT.
If calling from out of state: 855-STA TALK (855-782-8255).