Post-COVID-19 Syndrome Effects on Mental Health: It's Not All in Your Head
By Taylor Groff Functional Nutritionist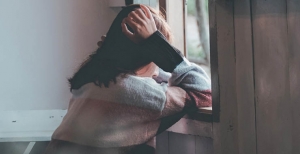 COVID-19 has caused an upheaval of life as we know it, with lasting implications that extend far beyond unwavering case numbers and death tolls. The impact of COVID-19 on physical and psychological well-being has proven to be a lasting one. So much so that the aftermath is now called "long-haul covid".
Besides the mental anguish from social isolation, unparalleled uncertainty, and multiple layers of grief and loss, those suffering from long-haul covid may experience neurological and psychiatric symptoms even if they have no history of a mental health condition. Those with previous psychiatric diagnoses are at an elevated risk for worsening mental health due to increased inflammation, a physiologic manifestation that directly correlates with depression and anxiety (1).
Risk for Neurological and Psychological Symptoms: Long-haul COVID
The Lancet recently published a study of over 200,000 people diagnosed with COVID-19 and found 33% had long-term neurological or psychiatric diagnoses following infection, with 13% receiving their first such diagnosis. Neurological complications include intracranial hemorrhage, ischemic stroke, Parkinson's disease, dementia, anxiety, and psychotic disorder, with anxiety disorder topping the charts at an incidence of 19% (2).
The constellation of long haul covid symptoms can range from heart palpitations to shortness of breath, brain fog, dizziness, insomnia, fatigue, fever, gastrointestinal discomfort, anxiety, depression, obsessive-compulsive tendencies, delirium, loss of appetite, headache, rashes, joint pain, persistent cough, hair loss, and more (3,5,6,8). There are also reports of reduced exercise and increased sedentary behavior due to concerns about overexertion causing relapse. These concerns stem from reports that suggest reduced lung capacity in hospitalized covid patients (8,9). One study found that lung damage from COVID-19 correlated with reduced pulmonary function until four months following infection (10).
However, it's worth mentioning that long-haul symptoms following a respiratory tract infection are not exclusive to COVID-19. There is evidence for similar long-term symptoms following pneumonia (5). Like COVID-19, pneumonia risk, symptoms, and severity are related to age and pre-existing conditions like asthma, diabetes, obesity, and heart disease. Those with type 2 diabetes have a 25-75% higher risk of being hospitalized with pneumonia due to the harmful effects of hyperglycemia on the immune system and inflammation (11). Therefore, the combination of metabolic dysfunction increased risk for infection and inflammation is not exclusive or novel to COVID-19. However, neurological and psychological symptoms appear to be more common in patients diagnosed with COVID-19 than influenza or other respiratory tract infections (2).
How Long Will Long-haul COVID Last?
The truth is, we don't know yet. The unpredictable nature and interindividual variability of long-haul covid symptoms come with many apprehensions. A new study based in the U.K. found that 1 in 20 people with COVID-19 is likely to suffer from ongoing symptoms that last eight weeks or more, and 1 in 50 people suffer from symptoms lasting 12 weeks or more (3). A study in the U.S. found that 35% of people have not returned to their baseline level of health 14-21 days after having a positive covid test (4). Moreover, females have higher reported anxiety and depression symptoms than men despite having lower inflammatory markers (1).
Additionally, there are reports of a 58% to 224% increase in the likelihood of diagnosis with a psychiatric illness two weeks to three months after a positive COVID-19 test with a drop to 5.8% three months post-diagnosis (12). The most common diagnosis was anxiety disorders at 13%, followed by mood disorders at 10%. Insomnia and dementia in adults 65 or older also came at a significantly higher risk.
Moreover, the likelihood of psychiatric illness diagnoses between two weeks and three months post-COVID-19 diagnosis was 18% for less severe cases and 40% for those requiring in-patient ICU treatment (12).
The Asymptomatic COVID-19 Long-haul
There's a growing concern for people experiencing long-haul covid who aren't aware of it because they've never had a positive covid test (5).  People who tested positive for COVID-19 with less severe sickness exhibit long haul symptoms after the 2-week quarantine period.  The unclear distinction proposes a new set of challenges for doctors to rightfully identify long-haul covid that manifest as physical and psychological symptoms, or if these symptoms are independent of covid that arose from living through such a chaotic time.
We're here to help
In any case, psychotherapy, proper nutrition, adequate quality sleep, targeted nutrients, relaxation strategies, connection and support, and other interventions are available for those suffering from anxiety, depression, and trauma stemming from COVID-19. As with mental and physical health conditions in general, community, self-care, and healthy lifestyle habits in addition to proper medical treatment can make all the difference in developing resiliency and even post-traumatic growth. To learn more about how Specialized Therapy Associates and Fx Med Centers can support you, call 201-488-6678.
References:
Mario Gennaro Mazza, Rebecca De Lorenzo, Caterina Conte, Sara Poletti, Benedetta Vai, Irene Bollettini, Elisa Maria Teresa Melloni, Roberto Furlan, Fabio Ciceri, Patrizia Rovere-Querini, Francesco Benedetti. Anxiety and depression in COVID-19 survivors: Role of inflammatory and clinical predictors. Brain, Behavior, and Immunity. Volume 89 (2020): 594-600,
Taquet, M., Geddes, J., Husain, M., Luciano, S., Harrison, P. 2021. 6-month neurological and psychiatric outcomes in 236,379 survivors of COVID-19: a retrospective cohort study using electronic health records. The Lancet. https://doi.org/10.1016/S2215-0366(21)00084-5
Sudre, C.H., Murray, B., Varsavsky, T. et al.Attributes and predictors of long COVID. Nat Med (2021). https://doi.org/10.1038/s41591-021-01292-y
https://www.cdc.gov/mmwr/volumes/69/wr/mm6930e1.htm
GreenhalghT, Knight M, A'Court C, Buxton M, Husain L. Management of post-acute COVID-19 in primary care BMJ 2020; 370 :m3026 doi:10.1136/bmj.m3026
gov/citizen-scientists-take-challenge-long-haul-COVID-19
Bellan M, Soddu D, Balbo PE, et al. Respiratory and Psychophysical Sequelae Among Patients With COVID-19 Four Months After Hospital Discharge. JAMA Netw Open.2021;4(1):e2036142. doi:10.1001/jamanetworkopen.2020.36142
https://www.cdc.gov/dotw/pneumonia/index.html#:~:text=Certain%20people%20are%20more%20likely,and%20people%20who%20smoke%20cigarettes.
B. Kornum, M. Nørgaard, C. Dethlefsen, K.M. Due, R.W. Thomsen, A. Tjønneland, H.T. Sørensen, K. Overvad. European Respiratory Journal 2010 36: 1330-1336; DOI:10.1183/09031936.00184209.
Taquet, M., Luciano, S., Geddes, J.R., Harrison, P. (2020). Bidirectional associations between COVID-19 and psychiatric disorder: retrospective cohort studies of 62,354 COVID-19 cases in the USA. The Lancet Psychiatry. DOI:https://doi.org/10.1016/S2215-0366(20)30462-4.