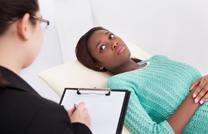 Perhaps you've had the idea of going to see a therapist, but are afraid you are going to end up telling your life story to someone who only nods their head and writes on a note pad the entire time, barely engaged.  Actually, psychotherapy has changed quite a bit since the early days of the cliche couch and looking away from the psychoanalyst. The truth is that therapy can offer a safe space to talk about your problems and it comes in many different forms. Therapists are trained to approach your problems non-judgmentally, to provide feedback, not give advice, to empower, not enable you. Additionally, it can be a collaborative relationship about your goals and objectives for feeling better about yourself, your life, your relationships, etc. Thus, it is a unique process that looks different for everyone.
What to expect from therapy sessions:
The first session is a gathering of information about you.
Sessions serve as incremental steps in a gradual process toward your personal goals.
The work can be long-term or short-term.
You don't have to talk about your childhood.
Each session can be an opportunity to discuss your problem at your pace.
Therapy is a relationship, a collaborative process.
Therapists are not going to tell you what to do; they will not give advice.
Some sessions will be emotionally, psychologically, mentally, maybe even physically difficult.
Sometimes, therapists will refer you to other specialists as new information about you in sessions are uncovered.
Therapy might be helpful if:
You just need to talk

 

You grew up in a dysfunctional family
Feeling resentful, angry, sad, dissatisfied often
You need support temporarily after a major life event
Not knowing why you feel upset
Uncertainty, self-doubt, difficulty making decisions

 

Your relationships don't ever seem to work out

 

You are in a relationship that you believe needs improvement

 

Work stress

 

Academic issues
Behavioral issues
Family problems
For further guidance on the question " How does therapy work?", please call Specialized Therapy Associates at 201-488-6678. Sometimes you just need someone to talk to and the truth is therapy comes in many forms. To make the process easier, our highly trained intake department will assist in linking you with the professional that will help you unlock your unique therapy journey.