It is getting to be that time of year again; the time of year when the days start getting shorter and colder. As the winter months bring about changes in the weather and our lifestyle, some people have a difficult time adjusting. The long, dark days may make it so that some of you may experience the "winter blues."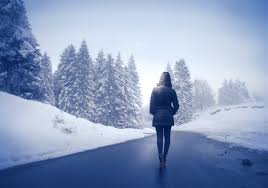 The range of depression symptoms that occur with the changing of the seasons was formerly called Seasonal Affective Disorder. This condition was renamed in the DSM V as Recurrent Major Depression Disorder with seasonal patterns.  Symptoms must last for two full weeks in order to receive this diagnosis. People experiencing this disorder will have symptoms for most of the day, nearly every day.
Winter Blues' Signs and Symptoms:
-Loss of interest or pleasure in most daily activities
-Oversleeping
-Weight gain
– Difficulty concentrating
-Fatigue
-Low Energy
-Feeling worthless, helpless, or guilty
-Recurrent thoughts of death and/or dying
If you or someone you love find themselves experiencing these symptoms then this could be a sign that you are experiencing the clinically significant condition known as 'winter blues.' There is a difference between feeling sad during the winter months and feeling depressed during this time of year.  When your sleep, appetite, and mood begin to change then it might be time to consult with a therapist.
If you or someone you love is experiencing any of the symptoms listed above please feel free to reach out to Specialized Therapy Associates at (201) 488-6678 to be connected with our intake department.